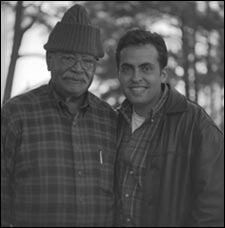 KENDALL MESSICK, Producer, Director
Kendall Messick is an artist who works with photography and film to capture intimate stories that would otherwise go unheard. From the recollections of elderly townspeople in a crossroads community in rural North Carolina
("Corapeake") to a man who has dedicated his life to pursuing his dream of owning a movie palace in the most unconventional way ("The Projectionist"), Messick is drawn to the stories of aging individuals often overlooked today. Each of his documented stories reflects a universal experience that transcends the storyteller making the work resonant with the larger audience.

Having studied at the International Center of Photography and the School of Visual Arts in New York City, Messick was the still photographer for the acclaimed documentary video "There is No Such Word as Can't" sponsored by the Enterprise Corporation of the Delta (1998). During the winter of 1999 he worked in Eastern Europe as the associate producer and still photographer for "Here and Now" a documentary film on the Gypsies of Bulgaria. "Corapeake" was Messick's first documentary film as director and was completed in 2001. After winning film festival awards, "Corapeake" was a featured broadcast on several PBS affiliates throughout the country. The film was then named a United States pre-selection finalist for INPUT 2003, which showcases the best of public television programming from around the world. The success of the "Corapeake" documentary led Messick to create an installation of still photography from the film in 2002. The "Corapeake" exhibition is traveling to galleries and museums throughout the United States through 2006. Messick's photographs are in numerous public and private collections including the Smithsonian Institution and the Museum of Modern Art.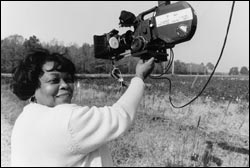 BRENDA PARKER HUNT, Producer 
Brenda Hunt was born and raised in Corapeake, North Carolina, but moved to Philadelphia at age eight. She returned to North Carolina to earn her bachelors and masters degrees in sociology and counseling from Wake Forest University, where she met Kendall Messick. Over the following years, the two regularly traveled to Corapeake to collect images and record the voices of the townspeople. Today she works as an Assistant Professor and Academic Counselor for the Community College of Pennsylvania, and contributes many hours of volunteer work to the United Way of Southeastern Pennsylvania.


LIDA BURRIS GIBSON, Producer, Editor 
A producer and editor based in Jackson, Mississippi for the past 13 years, Lida has always been interested in stories and storytellers. Since 1990 she has produced and edited over 200 projects ranging from TV spots to long-form instructional programs. Her clients include local businesses, state agencies, non-profits, and international corporations.

In 2001, she and creative partner Kendall Messick completed their first documentary, "Corapeake," in which the residents of a small North Carolina town tell their stories of love and loss, hardship and hope. Lida was drawn to "The Projectionist" (2004) because she saw it as a triumph of a man whose desire to build a grand movie palace seemed beyond his reach, but who found his own way to fulfill his dreams.

Other documentary projects include the 3-minute film "They Said It Couldn't Happen," a meditation on a home movie from 1960's Mississippi in which her family's footage was double exposed over footage of a still unidentified black family. She was also one of the editors on "Belles and Whistles: A Northerner's Journey Into Southern Femdom" a documentary by Anita Modak-Truran.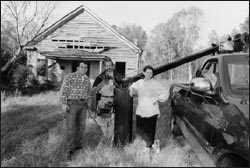 DON WARREN, Cinematographer
Don Warren is a Jackson, Mississippi-based freelance cinematographer with more than twenty years of experience shooting in every film and video format. His projects have ranged from commercials and interactive videos to documentaries and feature films. His work has taken him around the world, from the South Pacific to Japan to Ukraine to Central America. He was the director of photography for the first independent film project shot from the NASA Space Shuttle, and is in constant demand by feature film productions for his skill in operating his own camera crane. For "Corapeake," Don shot all of the 16mm color footage. He is a graduate of the film program at the University of Southern Mississippi.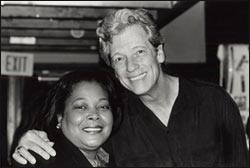 JOHN HAMMOND, Blues Musician
For 35 years John Hammond has dedicated himself to the tradition of the solo blues artist, perfecting a style that existed long before his birth and stamped it with his own intense vision. With five Grammy nominations to his credit and having won a Grammy in 1984 for his contribution to the compilation "Blues Explosion", Hammond is a major figure in blues music today. He composed and performed the original soundtrack for the Dustin Hoffman classic, Little Big Man in 1971 and narrated and performed in The Search for Robert Johnson, a British documentary produced in 1992. In February 2001, John released his 35th album, "Wicked Grin" produced by Tom Waits.